Our New Pastors
Faith, they say, is a journey, a long path that can define a lifetime. The faith journeys of Bruce and Carolyn Gillette exemplify a life-affirming commitment to serving others, "guiding church members – rich and poor – [to be] God's church together, working for God's reign of love and justice." [From Carolyn's PIF] Carolyn's straightforward statement about what fulfills her as a teaching elder is in perfect accord with Overbrook's vision for our church, as "we seek to realize the Kingdom of God now, as the Spirit moves and enables us." [From Overbrook's Ministry Information Form] Bruce's devotion to pastoral care is most certainly seen in the way he "once hiked through a blizzard (and hitched a ride on a snow plow), to visit a man having emergency surgery in a local hospital." [From Bruce's PIF] That these two lovely people, whom God bound together in marriage and in ministry, now seek to serve with us at the crossroads of City and Lancaster Avenues, is a very special blessing indeed. Here are some background notes about their journey.
In their spiritual biographies, Carolyn and Bruce both point to childhood nurturing in the faith through their parents and grandparents. Bruce's maternal grandmother (Lucy Robertson Calvin) was church secretary, elder and presbytery treasurer. Carolyn's father was a graduate of Drew Theological School. Through them, and other family members, the Gillettes were gifted with "a wonderful balance of deep spirituality lived out in loving concern and service for others." [From Bruce's Spiritual Autobiography] Carolyn has made several mission trips to Honduras leading teams and working with communities mostly in the Copan Ruins area. After college in 1979 Bruce served as Volunteer-in-Mission at Ghost Ranch Conference Center and other ministries.
Carolyn Winfrey Gillette is about as close to being a rock star as you can get within the staid temperament of the PC (USA). She receives commission after commission from across the country to write new hymns, (including a set of Lenten hymns in the current Presbyterian Outlook magazine) wherein she creates new texts based upon established hymn tunes. Her hymns are included in some 18 books, including our own current PCUSA hymnal, Glory to God, in our pews right now.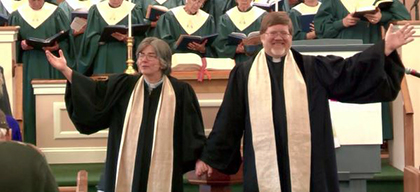 Bruce has helped to start, organize and serve with several community groups; Habitat for Humanity (Sussex County, NJ chapter); Family Promise in Northern Newcastle County DE, ministry with homeless families; Delaware Coalition Against Gun Violence (current Vice-President); Delaware Interfaith Power and Light (against global warming); and Kairos Prison Ministry in Delaware. He is current President of the Board of Directors for the Interfaith Resource Center in Wilmington.
John, their eldest, is a federal law enforcement officer, his wife Jenell a high-school special education teacher for autistic teens. Catherine serves as the Grassroots Mobilization Coordinator at NETWORK Lobby for Catholic Social Justice. Sarah is a social worker serving in a shelter for homeless men Dayton, Ohio; and Sarah's boyfriend, Malachi, is studying to be an elementary school teacher.
Twenty-two years experience as co-pastors in long-term pastorate.
Prolific authors and co-authors of resources for pastoral ministry.
Passionate about preaching, mission, social justice and being Presbyterian.
Popular church conference speakers on ministries with families, older adults and worship.
Met on campus at Princeton Theological Seminary; married since 1984.
Loving parents of three grown children: John, Catherine and Sarah.
Long history of Philadelphia connections, both social and pastoral.
Currently active members of New Castle Presbytery (Bruce was Presbytery Moderator in 2016).
Bruce and Carolyn enjoy walks and hikes, a simple way to keep up their discipline of 10,000 steps a day. Every summer will find them kayaking on Loon Lake in Western New York while staying in a small cottage that they rent. Bruce enjoys movies, going to high school plays and musicals, and reading. Carolyn likes vegetable gardening, reading, and writing.
Bruce's father, Jerry, was a church historian who served at the Presbyterian Historical Society in Philadelphia.
As a kid in Cherry Hill, Bruce delivered The Philadelphia Bulletin as a newspaper boy.
Bruce worked as a summer intern at Old Pine Street Church in Philadelphia.
Carolyn worked as a summer intern at Germantown United Methodist Church.
The Gillettes had planned to spend their honeymoon in Pennsylvania Dutch Country but a powerful storm caused them to get off the Schuylkill and they spent that first night in a hotel on City Avenue.
Daughter Sarah served in a homeless shelter for men in Philadelphia.
See why they feel "called" to Overbrook? God has been leaving breadcrumbs for them to follow their whole lives.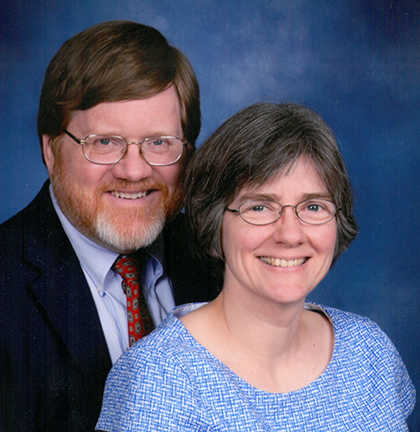 Dear Members and Friends of Overbrook Presbyterian Church,
We are deeply honored and humbled to be your Pastor Nominating Committee's candidates to be your next pastors.
We have heard about Overbrook Church for many years. Overbrook has a well-earned reputation for inclusiveness of all of God's children, excellence in music and worship, and a deep commitment to helping people live the good news of Jesus Christ in the world.
The Overbrook Pastor Nominating Committee members are a wonderful group of people who did an outstanding job in showing us the reasons why they love this church. We appreciate the many hours they gave to meeting with us, getting to know us, and helping us to get to know the church better. From what we had heard of your congregation, we were already excited about the possibility of serving with you. Their candor, humor, wisdom, and — most of all — faith made us all the more sure that God is calling us to serve at Overbrook.
Our lives have intersected with Philadelphia for many years, and we are thrilled with the idea of being able to live in the city and to serve God's people at the Church at the Crossroads and the surrounding communities.
Our hearts are in the local church, serving as pastors. We believe it is an honor for us to be invited into church members' lives and journeys of faith. We hope we have the opportunity to serve with you and to get to know you individually and as families, and to walk with you on your journeys of faith.
Grace and Peace,
Bruce and Carolyn Gillette