Choirs at Overbrook
Overview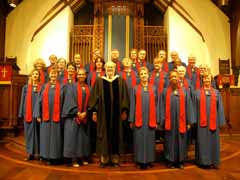 The Overbrook Choir is an adult choir of about 30 members, most of them amateur singers, though anchored by a professional quartet. It sings regularly on Sunday mornings throughout the school year as well as for special services and concerts. In 1999, it performed at the Advent-Sing in Vienna, Austria, in 2007 at the Tuscany Choir Festival in Italy, and in 2013 made a tour of Germany and the Czech Republic. The Overbrook Choir rehearses on Thursday evenings, September to May, at 7:30 PM in the Choral Room on the first floor.
The Overbrook Junior Choir is a choir for children ages 7-12. During the program year, it sings approximately once a month in worship, and often presents a musical or cantata in the Spring. The emphasis of the choir is not just on performance, but is intended to be a growth experience that blends music, the Bible, the history of the church, multiculturalism, and fun. Rehearsals are on Sunday mornings, September to May, at 9:15 AM in the Choral Room on the first floor.
The Overbrook Westminster Handbell Choir is an ensemble for adults and teenagers, which rings approximately once a month in worship, as well as for seasonal worship services. Formed in 1972, the choir of approximately 12-14 members rings four octaves of Schulmerich handbells. Rehearsals are on Thursday evenings, September to May, at 6:15 PM, in the Bell Room on the second floor.
The Overbrook Quartet
Iris Fairfax is a versatile artist who performs roles in soubrette, lyric coloratura, and dramatic coloratura Fächer, and she is in her nineteenth season as soprano soloist in the Overbrook Quartet. Her repertoire spans the idioms of opera, early and contemporary classical music, traditional musical theater, and the American Songbook.
Ms. Fairfax has sung with the Delaware and Lancaster Symphonies, Cincinnati Opera, Pioneer Valley Symphony, Philadelphia Singers, the Encores! Series at City Center in New York City, and the American Music Theatre Festival. She is the recipient of several awards and honors, including first place in the New York Vocal Artists Millennium Competition and the Legacy Award of the National Opera Association Competition.
Toffer Mihalka is in his fourteenth season as tenor soloist in the Overbrook Quartet. Toffer comes originally from southern California, where he discovered his love of music and performing at an early age. He launched headlong into musical studies at the Indiana University Jacobs School of Music, where he was fortunate to receive training from some of the legends of the opera world.
After receiving both bachelor's and master's degrees in vocal performance, Toffer moved to Philadelphia. He has performed with the Opera Company of Philadelphia, Cincinnati Opera, Santa Fe Opera, and many more.
Matthew Lulofs has been praised for an "aptly lush and unctuous tone" by Steven Winn of San Francisco Classical Voice. Last season, he performed Malatesta in Donizetti's Don Pasquale with Opera Libera, Don Alfonso in Mozart's Così fan tutte with Delaware Valley Opera Company, Raoul de St. Brioche in The Merry Widow with Temple Opera, and Ben in Opera Upper West's production of The Cell. Recently, he sang with the Philadelphia Opera Chorus in Puccini's Turandot and looks forward to singing with them in the spring for Carmen.
Matthew, now in his second season at Overbrook, earned his B. M. from the San Francisco Conservatory of Music in 2014 and recently completed his M. M. at Temple University's Boyer College of Music and Dance, where he studied under Dr. Marcus C. DeLoach.