Renting Space
Overbrook Presbyterian Church has affordable, comfortable, functional spaces for rent for daily, evening, weekend, weekly, or longer-term rentals. We have spaces for all occasions—events, parties, receptions, classes, meetings, exhibits, musical rehearsals and performances, etc. We rent to individuals, nonprofit organizations, and businesses with a sliding scale of rental rates. We do not rent any space on Sundays.
Please review all the information below, and if you have any questions or would like to book an event, please email us for more information.
Fellowship Hall
Fellowship Hall is a large hall suitable for seated banquets, theater-style events, and meetings of all varieties. With a proscenium theater stage, and 30-foot skylight ceilings, Fellowship Hall is a very functional and impressive venue for your next gathering.
Capacity: 160 seated at tables, 180 seated theater style
Special features: Fixed stage for musical or theatrical performance, configurable lighting, amplified speaker podium, piano, hardwood floors, comfortable seating, and adjacent hallways with coat racks. Proximity to the Wistar Morris Room makes it possible to host larger events.
Wistar Morris Room
The Wistar Morris Room is the social focal-point of Overbrook Presbyterian Church. With a wall of windows, a grand hearth, hardwood floors, and magnificent dark-wood beams, the Wistar Morris Room is a quiet and pleasant space for any smaller function. Adjacent kitchen facilities make this room ideal for catered functions.
Capacity: 75 seated theater style, 60 seated at tables
Special features: air conditioning, adjacent to kitchen with open counter for serving, white board/screen cabinet for meetings, hardwood floors, and adjacent hallway with coat racks. Proximity to Fellowship Hall makes it possible to host larger events.
McMillan Chapel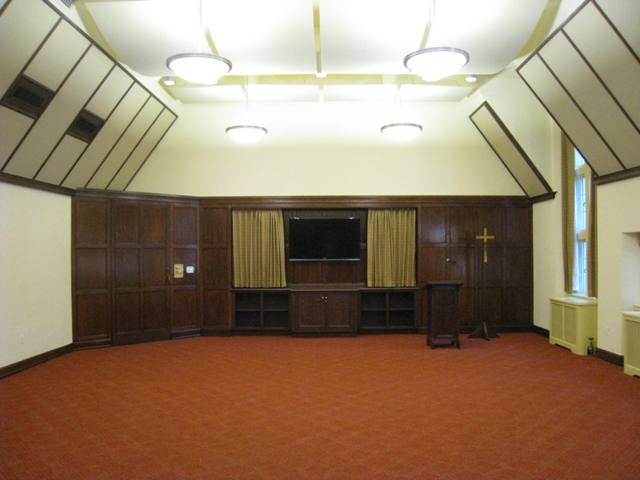 McMillan Chapel is an intimate and light-filled space, perfect for groups seeking a quiet place for a meeting or seminar.
Capacity: 40 seated theater style, 30 seated at tables
Special features: air conditioning, computer/audio/video system with 60" flat screen TV, lectern, 2 wireless mics, wall-to-wall carpeting, and a small pipe organ.
Kitchen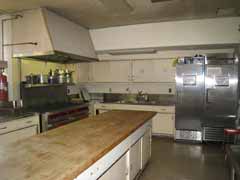 Our kitchen is a spacious and functional facility comprised of two rooms: a kitchen with stove and dishwashers, and a serving room with an open counter to the Wistar Morris Room. Overbrook Presbyterian Church uses this kitchen to prepare and serve meals for 200. Please note: the kitchen is not available for rent by itself for food preparation, but only in conjunction with the rental of another room for a function at Overbrook.
Special features: a 10-burner Vulcan gas range, restaurant standard dishwasher, four commercial sinks, air conditioning, and more than 30 linear feet of counter space.
Sanctuary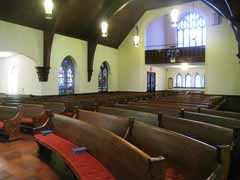 Weddings at Overbrook are open to church members who wish to celebrate their vows before God in the context of a service of Christian marriage.



Capacity: 300 comfortably; maximum 400
Scheduling Your Event
Overbrook Presbyterian Church requires prospective users of our facilities to complete a contract and make a 50% non-refundable deposit at the time of application. Applications may be mailed or dropped off at the Church Office. A sample contract is attached here. Terms are subject to change. Please email us for a current contract.
Rental Rates
Please contact our office for rental rates. Rates include chairs and tables, as requested; heating or air conditioning according to the season (heating only for Fellowship Hall); use of the rest-room facilities; and shared use of the 80-car parking lot.
Custodial fee. In addition to the above-mentioned fees, a custodial fee is required for all events. Custodial services include opening and closing the facilities, set-up, break-down and trash removal. Nevertheless, users are required to leave the space in a "broom clean" condition with all waste in trash cans/bags.
Restrictions
No smoking indoors.

Alcoholic beverages are prohibited.

No rentals on Sundays.
Building Map
Click here to view or download a map of the church building.