Music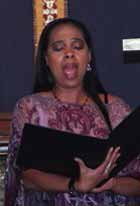 Since the days of the Old Testament, music has been central to the worship of God. Overbrook has long been known for its excellent music program. Drawing on the talents of both professional and amateur musicians, the goal of our music ministry is to enable everyone to join in the joyful song of God's praise.
At Overbrook, we love traditional hymns and anthems, but also work to incorporate a diversity of styles as well as music from other cultures and traditions. In all our music, our souls are inspired and uplifted.
Choirs
At Overbrook Presbyterian Church, we offer a variety of opportunities for music-making. To learn more about our choirs, click here.
Organ
Overbrook's music program is greatly enriched by a magnificent 78-rank Möller pipe organ. First built in 1939, and dedicated by the renowned organist Virgil Fox, it has been carefully maintained and expanded over the years. Today, the music from its 3,777 pipes fills our Sanctuary with a rich and glorious sound that helps us to praise God in majesty. Learn more about the organ here.