Giving
Online Giving
To donate by credit card (with PayPal account)
Click on this link to go to the PayPal Giving Fund where you can make donations to the church using a credit card. When giving this way, the church is not charged any processing fees. You will have to either log in with your PayPal account or create one to donate this way.
To donate with a credit card (without PayPal account)
If you'd prefer not to use a PayPal account, you can donate through PayPal but using a credit card only. Click here. Pick "Donate with a Debit or Credit Card" and follow the directions.
To set up a recurring credit card donation (with PayPal account)
If you'd like to set up a monthly credit card donation, click here. Enter the amount of your donation and check the box to make it a monthly donation. You will have to have (or create) a PayPal account to set it up this way.
To set up a recurring donation by check
Most banks offer the option to set up recurring payments by check. You can set it up so that the church is mailed a check on whatever schedule you choose. You'd need to check your bank's website or call them to set that up. The church mailing address is 6376 City Avenue, Philadelphia, PA 19151.
To give by text
Text GIVE to (484)222-5757 and follow the prompts. You can make a one-time donation or set up recurring donations.
As with all online giving, the church pays processing fees of 3-4% on credit card charges, so if you are searching for the way for the church to receive the whole amount of your gift, automatic deduction from your bank is the most efficient.
Annual Budget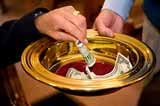 Overbrook Presbyterian Church has an annual budget of around $575,000 that supports all of our programs and ministries. The budget is funded by a variety of different sources. Investment income from endowment funds, rental of space to outside users, fundraisers—all of these are important. However, the vast majority comes from contributions from members and friends. Every gift truly matters, however large or small.
Making a Pledge
Each year in the fall, members of the congregation are invited to make a pledge for the coming year, indicating their level of financial commitment. This allows the Session of the church to prepare the annual budget, based on a reasonable expectation of income for the next year. Pledge amounts are kept confidential. If you would like to make a pledge, please contact our Financial Secretary.
Memorial Gifts
Members and friends of Overbrook Presbyterian Church may wish to make donations to honor the memory of family members or friends, particularly those who have had an association with Overbrook during their lifetimes. If you are interested in making a memorial gift, please contact our Financial Secretary.
Planned Giving
Some church members may wish to include Overbrook Presbyterian Church in their estate planning, to help ensure the long-term financial health and stability of the church. A variety of giving options are available, including bequests in wills, charitable gift annuities, and charitable remainder trusts. These kinds of gifts are a great blessing to future generations. They may also provide financial benefits to the donor, such as lifetime income from an annuity, tax savings, and simplified financial management. If you are interested in exploring these options, please contact our Financial Secretary for more information.