Feed My Starving Children
Care at The Crossroads
FMSC's Mission: Feeding God's starving children hungry in body and spirit.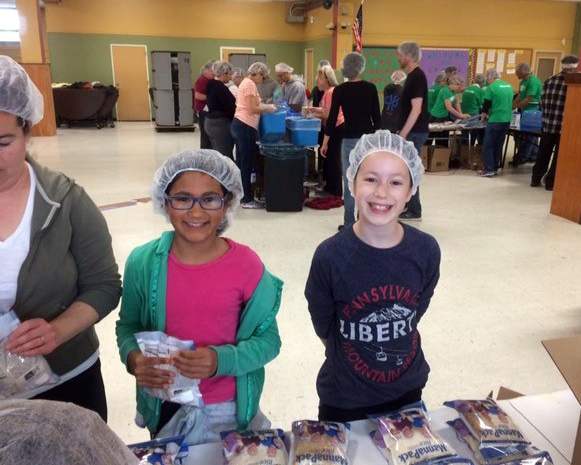 The Approach: Our process is simple. Donations given by people just like you fund the meal ingredients. Volunteers hand-pack the meals. Meals are donated to FMSC food partners around the world, where kids are fed and lives are saved!
Our Feed My Starving Children MobilePack requires fundraising, man/woman/children power, and a passion for helping others! Join us as we prepare meals for children who are starving around the globe.
Where: Monsignor Bonner & Archbishop Prendergast High School
403 N. Lansdowne Ave
Drexel Hill, PA 19026
When: Sat., April 28, 2018
Contact: Becky Lazo
How Can You Help?
Volunteer
REGISTER NOW to volunteer for the MobilePack on Saturday, April 28! We'll need lots of helping hands - everyone, age 5 and up, is welcome. It's a really fun time and it's amazing how much food we can pack working together. You can find more information on volunteering here.
Donate
We hope to raise over $23,000 and we appreciate everyone's support. These figures may be helpful:
$365 feeds a family for a year
$220 feeds 1,000 children for one day
$80 feeds one child for a year
$50 pays for one full box of meals at a MobilePack
You can mail a check to the church, payable to Overbrook Presbyterian Church (6376 City Avenue, Philadelphia, PA 19151). Please include FMSC MobilePack 1804-071MI on the memo line of your check so it can be allocated to our event. Or you can donate online.
Get Involved
We need committee members and leaders for hospitality, marketing and prayer teams. Contact Becky Lazo for more information.
Follow our Facebook page for more information and to keep up-to-date on what's going on.